About Me
My unceasing quest for expansion and knowledge led me to the shores of Australia, where my journey took a transformative turn. It was here, in the vibrant city of Naarm, that I found myself immersing deeply into my true passion: painting. This newfound haven not only facilitated encounters with fellow artists, thus enriching my worldview, but also ignited the commencement of an introspective odyssey—a journey of self-discovery and empowerment as both an artist and a migrant woman.
Since 2019, my artistic endeavours have graced diverse venues, painting a trail of exhibitions. A standout moment was my solo showcase at Bendigo Bank Carlton in 2021, a testament to my artistic evolution. Another milestone was the empowering solo exhibition titled "Empowering Women" hosted at Brunswick Street Gallery. The accolades continued to pour in as I proudly clinched finalist status for the esteemed SBS Portrait Prize in 2021. And now, on the horizon of October 2023, I am on the brink of unveiling my creations at Space2b in St Kilda, while eagerly anticipating participation in the forthcoming Victorian Pride Centre exhibition next year.
I also was given a grant from Regional Arts Victoria and Creative Victoria called "Sustaining Creative Workers Initiative 2021" to develop my artistic practice. This included two workshops with Melbourne's community.
As the tapestry of time unfurled, the culmination of 2022 unveiled a remarkable opportunity—the honour of being chosen as the featured artist to adorn the Yarra Tram, an artistic endeavour that adorned the streets from January 31 to May 2023. This monumental canvas encapsulated my artistic essence, captivating the passersby and further cementing my presence in the artistic tapestry of Naarm.
Yarra Tram Project
This project in collaboration with Yarra Tram Community Partnership Program and Sisterworks Inc, is a message to encouraging employers to hire migrant and refugee women.

Photos by James Morgan Photo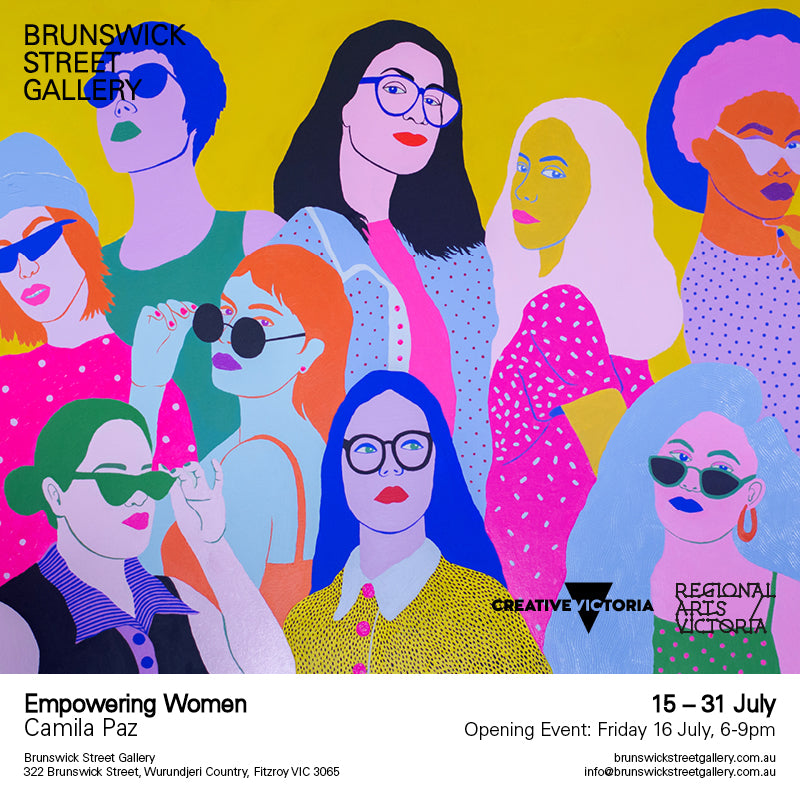 Brunswick Street Gallery Solo Exhibition
The empowerment process as a self-taught migrant artist gave birth to the portrait series called "Empowering women", which through a feminist perception captures women's expression in the journey of finding your voice, self-acceptance, hope and sister tribe.
Through the use of a vibrant colour palette, Camila seeks to shine the light on a minority, the voiceless, the helpless, and the ones that are no longer with us.
The work of the artist is to constantly seek the liberation of the status quo, the emancipation and rebellion against social structures and objectification across time and history that have been bestowed upon women.